Dr. Henry Z. Montes, M.D., Radiation Oncologist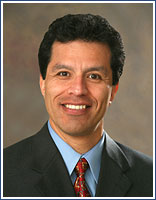 A Ventura County native, Dr. Montes is a graduate of Boston University School of Medicine and served as Medical Director of the Radiation Oncology Department at St. Bernardine Medical Center before joining ROCVC. Fluent in Spanish and the recipient of many honors and awards, he believes in the "team approach" to cancer care, appreciates the value of knowledge, and keeps his practice at the forefront of technology. Dr. Montes provides high-level care to cancer patients and specializes in the most advanced treatments for prostate, breast and skin cancer.
Dr. Montes earned his Bachelor's in Mechanical Engineering from Loyola Marymount University and earned his M.D. from the Boston University School of Medicine. His postdoctoral training included an Internal Medicine residency at the Veteran's Administration/West Los Angeles and Radiation Oncology training at the University of Arizona Health Sciences Center. Prior to joining the Ventura County Center in 2000, he served as radiation oncology associate medical director at Desert Hospital Comprehensive Cancer Center in Palm Springs, California.
Dr. Montes is dedicated to ongoing education and implementation of the most advanced cancer treatments. Patients often comment on his professionalism and reassuring manner.
"Cancer has touched my own loved ones, giving me first-hand awareness of the fear a cancer diagnosis brings to a patient and his or her family," according to Dr. Montes. "It's important to offer patients the most current technology and a comprehensive patient care team to ensure that they receive effective as well as compassionate treatment."
License and certifications include:
State of California Physician's License
State of Arizona Physician's License
DEA Registration
Honors and awards include:
Catherine McAuley Lifetime Achievement Award - St. John's Healthcare Foundation
Celebration of Excellence Award - The Wellness Community - Valley/Ventura
Education and Development Fund Award, American Society for Therapeutic Radiology and Oncology
Clinical Oncology Career Development Award from the American Cancer Society
American College of Radiation Oncology Fellowship Award
Dr. Montes belongs to the Southern California Radiation Oncology/Los Angeles Radiologic Society, the American Society for Therapeutic Radiation Oncology, the American College of Radiology, the Ventura County Medical Association, the California Medical Association and the American Medical Association. He is a member of the Medical Board of Directors, American Cancer Society, Central California Division. Dr. Montes also serves on the Wellness Community Professional Advisory Board and the St. John's Healthcare Foundation Board (Oxnard and Pleasant Valley).
"It's important to offer patients the most current technology and a comprehensive patient care team to ensure that they receive effective as well as compassionate treatment."
– Dr. Montes