6D Robotic SBRT Cancer Treatment

The advanced radiation therapy giving you more cancer-fighting treatment in less time with fewer side-effects. Delivered with the latest robotics and available close to home at Radiation Oncology Centers of Ventura County (ROCVC)
A New Way to Fight Cancer
Fight cancer with a proven program that lasts days not weeks, in maximum comfort with minimal side-effects. Stereotactic Body Radiotherapy (SBRT), the breakthrough radiation therapy of the 21st century, redefines cancer treatment using sophisticated technology to target tumors with high-dose radiation while sparing healthy tissue. This power and precision greatly shortens treatment sessions AND reduces complications.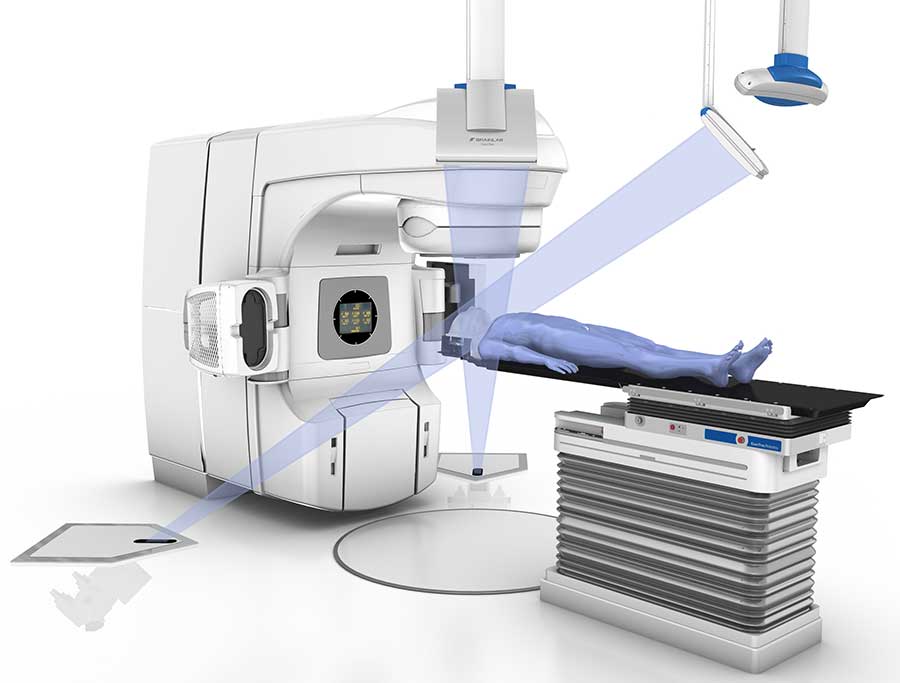 How SBRT at ROCVC Works

Custom computer mapping:
ROCVC starts with computer mapping to create an exact 3D image of the tumor—a moving target allowing for breathing and natural shifting of organs.
ExacTrac® 6D Robotics:
With this latest robotic technology, ROCVC applies the highest possible radiation dose with sub-millimeter accuracy, directing SBRT beams in real time throughout the treatment session.
Multiple radiation beams:
The full SBRT dose only occurs where multiple radiation beams intersect at the tumor. Each individual beam contributes part of the dose, to converge at the cancer target, applying the combined, full dose only to the tumor.
Cancers SBRT Can Treat
SRBT is designed to treat small tumors that are clearly visible in mapping images. Such tumors can occur with a variety of cancers including brain, lung, liver, prostate, bile duct and pancreas. SBRT may be the superior treatment for certain tumors that are not well-suited for surgery or standard radiation therapy. The ROCVC team will present your best treatment options.
SBRT and ROCVC—Convenience and Compassion Meet
Shorter and fewer sessions: this is the SBRT difference. You'll spend only 15 to 40 minutes per treatment and be done in 3 to 5 treatments. With SBRT, the most advanced radiation therapy is also the most convenient. In the ultimate convenience, SBRT guided by ExacTrac®, the same state-of-the-art treatment provided at UCLA Medical Center, is available at ROCVC, your Ventura County specialist in compassionate cancer care for over 30 years.
Find out what SBRT can mean to your cancer treatment.

Contact the experts at Radiation Oncology Centers of Ventura County today.